Le 21 février 2017, 04:06 dans Mode • 0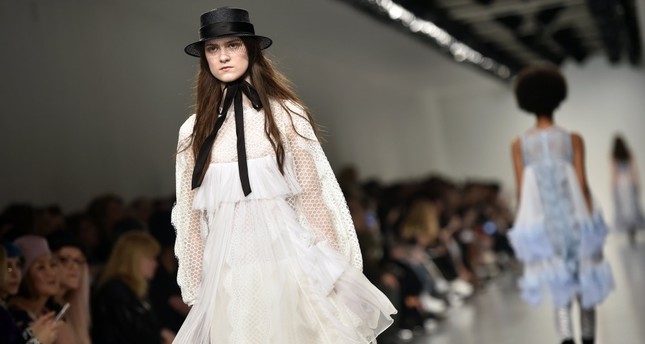 (Photo:yellow formal dresses)
Fashion labels took viewers on dreamlike escapes, to snowy mountain peaks and the English countryside at London Fashion Week that will draw to a close today. This year, Turkish designers brought a statement look to London Fashion Week, presenting luxurious, embellished looks for women's wardrobes.
Hussein Chalayan returned to the London catwalk for the first time in 16 years, with relaxed but structured tailoring inspired by Greek folk culture -- and an explosion of glitter.
Models took to the stage at Sadler's Wells Theatre in a collection featuring loose-fitting dresses, shirts with built-in waistcoats, and carrot-shaped trousers with wrap belts in wool blend knitted felts. For the finale, they ripped off geometric print panels from the front of their outfits -- helpfully labeled "Pull To Open" -- to unleash a spurt of glittery foil streamers onto the ground.
"It was a combination of a protest and a celebration -- I wanted these very tacky things coming out, that I considered very beautiful," Chalayan told reporters backstage. There was cashmere black dresses cut to look as if they were falling off the shoulders, bold black and white prints and delicate tops embroidered with hand drawn Greek figures.
Born to Turkish-Cypriot parents in Nicosia and later raised in the U.K., Chalayan is known for his minimalist, elegant and sculptural creations, which have been worn by Bjork and featured in exhibitions and theatre productions around the world.
London-based Turkish designer Bora Aksu dedicated his show to Princess Sophia Duleep Singh, a prominent advocate for women's rights in the U.K. during the suffragette movement. He said she showed a "beguiling combination of royalty and revolutionary fervor."
The collection played heavily on lilacs, blues and powdery pinks. Some of the outfits offered playful variations on Victorian themes, complete with severe, nearly masculine hats, while others were completely contemporary. The 1960s were present also, with some models braiding blue flowers into their hair and several outfits offering variations of black and white, Op Art themes. A full-length pink and pale blue dress was particularly striking, seeming to bridge several eras of fashion history in a soft, subtle vision. At its best, the show had an ethereal quality.As a parallel event to London Fashion Week, Turkish fashion designer Zeynep Kartal introduced a mini fashion show at Turkey's London embassy, presenting her autumn and winter collections. The event held at the Turkish Embassy's residence at Portland Place in central London was also attended by celebrities from the fashion and TV world. The fashion show by Kartal exhibited dresses with July 15 photographs printed on them inspired by the failed coup attempt along with clove motifs symbolizing the martyrs of the coup attempt.Read more at:green formal dresses