Le 16 juin 2017, 04:48 dans Mode • 0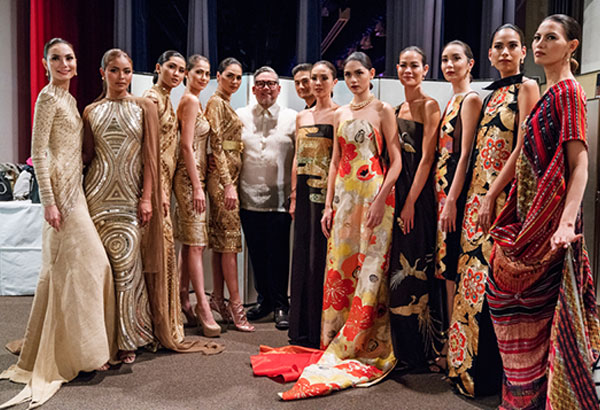 Rajo Laurel knows the value of spectacle. Spectacle as showcase, spectacle as an art form — it's just one of the many tools fundamental to Rajo's continuing rise as one of the most established designers in Manila. From his tenured history of galas, group shows and solo fashion presentations from the beginning of his career right until the cusp of his 25th year in the industry, one thing becomes clear: Rajo Laurel loves putting on a good show.
His latest one? A fashion and cultural showcase set in Tokyo, Japan celebrating our nation's 119th Independence Day and the recent appointment of his father, Jose C. Laurel V, as the new Ambassador of the Philippines to Japan. This presentation is Rajo Laurel's first company-produced solo fashion show overseas, brought together in partnership with SAGA Events, Jewelmer Joaillerie and Philippine Airlines.
Rajo has always professed a deep love for Japan and his latest show serves as a full circle moment for him. It's a relationship that took root in his early days as a 14-year-old exchange student in Tokyo, under the purview of his grandfather Jose S. Laurel III — then ambassador of the Philippines to Japan. "My grandfather really shared with me the beauty of Japanese culture," shares Rajo. "In a way our family relationship with the country has paved the way to who I am today, both as a person and as a designer."
No stranger to the behind-the-scenes rigors of a full-scale fashion showcase — the designer can cite his experience from galas and his numerous presentations, both big and small ("Rajo Red" for his 15th year, "MetroWear Icon" for his 20th, just to name a few) — Rajo still concedes that the challenge inherent in mounting a fashion show overseas was no small feat. "There were many nights where we would ask each other if this was truly, at all, possible," shares Rajo. "From the escalating costs, to the very strict Japanese restrictions, to many, many more unforeseen struggles — the challenges were many but we managed to pull it off somehow. I'm very thankful."
The event was held at the prestigious Imperial Hotel in Chiyoda, Tokyo. Rajo chartered a veritable fashion caravan to stage his destination show (much in the same vein as the trending destination shows from international labels such as Gucci's Florence and Louis Vuitton's Kyoto); ferrying a small team of in-house managers; show directors led by Robby Carmona of SAGA Events, a long-time collaborator of Rajo Laurel; event partners, and a 12-strong model lineup of certified "Rajo Girls" led by veteran top model Ria Bolivar and Miss Universe Philippines 2016 Maxine Medina herself.
"When our dad asked us to mount a show early this year I felt that it was a really daunting task," shares Rajo's sister and Rajo Laurel Couture general manager Venisse Laurel, "apart from all the coordination and logistics, we had to mount this show in Tokyo with a limited number of staff to cover all our bases. Fortunately, Rajo and I have our siblings and cousins who acted as our dressers, entertainers, front of house and pack-up crew. Totally bayanihan spirit, which was incredible." With special musical performances by Denise Laurel, Nicole Laurel-Asensio and Jojo Urquico, the event was a true family affair, cutting close to how Rajo really runs his operations at home.
"I wanted to do a show that would express the two cultures and how they've come together to inspire me," says Rajo. The show opened with a tribute to Marawi and Mindanao with model Ria Bolivar wearing a segmented malong made from indigenous weaves and tapestry from the region. Embellished with beads and crystal, the piece was accompanied by a Mindanao-based musical ensemble. The show moves on to Rajo's signature "Pintados" suite: fully-embellished sheathes in the style of native tattoos and marking — culminating with Maxine Medina wearing a finely-wrought frock and her signature Miss Universe headpiece designed by Jewelmer Joaillerie.
Rajo goes on to marry his myriad of cultural influences with his Japanese suite: a contemporary take on the Japanese kimono, obi and other Japanese motifs. The finale was a series of pieces from Rajo's archive. "In many ways, the show for me was a celebration of the Filipino artisans and craftsmen because even though each piece was treated differently, our shared talents made for a cohesive story."
Rajo Laurel's landmark fashion show for Japan's Philippine Embassy (the first since Pitoy Moreno's outing in 1964) signals a new chapter for Ambassador Laurel, all the while honoring the country's day of independence. "This show is very meaningful to me and my family," says Rajo. "This is my way of thanking and giving honor to my father for how he has loved and served our country as a public servant. Doing a full fashion show in Japan is now a dream come true; to be able to show the beauty of our country and what we can do as Filipinos has been such an honor and a humbling experience."
On where we'll find Rajo next: "The work doesn't stop, and my team is in the middle of shooting our cruise 2017 collection. We're hoping to open a third RAJO! store very soon, and also, we're planning my upcoming 25th year anniversary as a designer in 2018."Read more at:formal dresses | http://www.marieaustralia.com/formal-dresses-shops-sydney